Embark Beach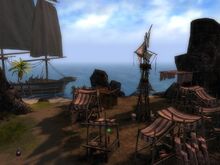 Basic Info
Neighbor(s)
none

Embark Beach is a port run by the Zaishen Order from which every mission outpost in the game is accessible as long as it is accessible to them. The outpost is intended to make the process of finding other players to party with easier. Throughout the port are three markets, one for each continent, with well known NPC's and travel agents that can take groups to any quest or mission location in that continent.
Getting There
Take the boat on the World Map and travel to the Great Temple of Balthazar, from there map travel to the outpost just south of it. Alternatively speak with a Zaishen Scout in any mission outpost.
References
Notes
This previously was speculated to be location of the Xunlai Market, which has been canceled. http://wiki.guildwars.com/wiki/Xunlai_Market
Ad blocker interference detected!
Wikia is a free-to-use site that makes money from advertising. We have a modified experience for viewers using ad blockers

Wikia is not accessible if you've made further modifications. Remove the custom ad blocker rule(s) and the page will load as expected.