Elite Scout Zusoh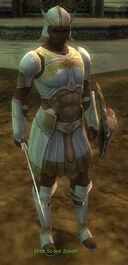 Classification
General
Elite Scout Zusoh is a high-ranking Sunspear Scout.
Quests Involved In
Location
Dialogue
"Ahai. Talk to any Sunspear Scout to receive a bounty. By helping out with local wildlife problems you also gain ranks within the Sunspears. We only give bounties to appropriate people, though. That is to say, we would much rather have stronger, more experienced officers fighting stronger, more serious threats. If you are too experienced you may not receive the bounty for the area."
Ad blocker interference detected!
Wikia is a free-to-use site that makes money from advertising. We have a modified experience for viewers using ad blockers

Wikia is not accessible if you've made further modifications. Remove the custom ad blocker rule(s) and the page will load as expected.