Elder Skruuj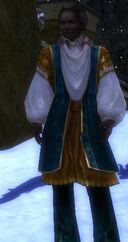 Classification
General
An old man who is Grandfather Kringle's counterpart and helps the Grentches during Wintersday.
Quests given
Location
Dialogue
"Wintersday is about embracing Grenth's harsh justice, not all this namby-pamby singing about gift-giving and banquets! Such merriment only angers the god of death. On top of that I could really use some peace and quiet. Bah!"
Notes
Trivia
The name Elder Skruuj is likely a reference to Ebenezer Scrooge from Charles Dickens' novel "A Christmas Carol."
Ad blocker interference detected!
Wikia is a free-to-use site that makes money from advertising. We have a modified experience for viewers using ad blockers

Wikia is not accessible if you've made further modifications. Remove the custom ad blocker rule(s) and the page will load as expected.