Divine Guardian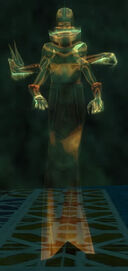 Classification
Description
Divine Guardians are part of the Trial of Divinity in Dasha Vestibule (mission).
There are six of them, each posing a riddle regarding one of the Gods of Tyria. Providing the correct answer activates the next question (or completes the task after the sixth). An incorrect answer will cause some mobs to spawn that you must destroy in order to be able to continue.
Location
Ad blocker interference detected!
Wikia is a free-to-use site that makes money from advertising. We have a modified experience for viewers using ad blockers

Wikia is not accessible if you've made further modifications. Remove the custom ad blocker rule(s) and the page will load as expected.