Disenmaedel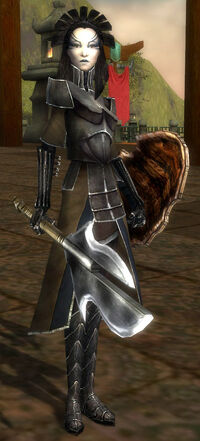 Classification
Description
Disenmaedel is the Raging henchman available in Guild Halls.
Location
Dialogue
People tell me I have anger issues, but I'm actually quite pleasant when you get to know me. The only thing that really ruffles my feathers is when people run away while I'm trying to chop them up with my axe! If they just stood still, I probably wouldn't lose my temper so much.
Looking at my skills usually calms me down. Would you like to see them?
Skills used
Evaluation
Trivia
---
Ad blocker interference detected!
Wikia is a free-to-use site that makes money from advertising. We have a modified experience for viewers using ad blockers

Wikia is not accessible if you've made further modifications. Remove the custom ad blocker rule(s) and the page will load as expected.