Dirk Shadowrise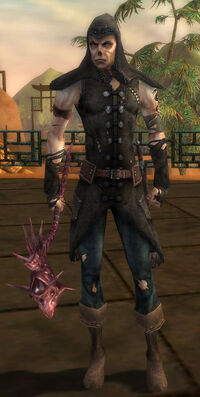 Classification
Description
Dirk Shadowrise is the Curses henchman available in Guild Halls.
Location
Dialogue
I've been haunted by my dreams ever since I sailed the waters where Orr once stood. I dream of a dark, rising shadow in the world, and fear the day when that shadow finally swallows the sun.
Forgive me, I didn't mean to ramble. Here are my skills:
Skills used
Evaluation
Trivia
---
Ad blocker interference detected!
Wikia is a free-to-use site that makes money from advertising. We have a modified experience for viewers using ad blockers

Wikia is not accessible if you've made further modifications. Remove the custom ad blocker rule(s) and the page will load as expected.