Ad blocker interference detected!
Wikia is a free-to-use site that makes money from advertising. We have a modified experience for viewers using ad blockers

Wikia is not accessible if you've made further modifications. Remove the custom ad blocker rule(s) and the page will load as expected.
Diane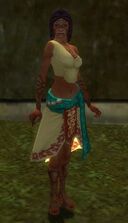 Classification
Diane is a Scribe collector who awards Mursaat weapons in exchange for an authorized copy of Saul's Story.
Location
Dialogue
"You wouldn't happen to have an authorized "Saul's Story" would you? I'm currently studying under Master Durmand, but hope to branch out and teach others as he has taught me. I need copies of "Saul's Story" to share with the people of Nebo Village, so they may better understand history of the land they have settled."
Collector Items
Diane
Location: Lion's Arch, Kaineng City and Kamadan
Collecting: 1 Saul's Story [Authorized]