Denos Makaluum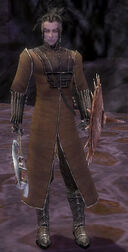 Classification
Dialogue
"Long have I toiled crafting a fearsome new weapon to be used against the Luxons, and my work is nearly done. I require a few last materials to complete the prototype. The horns of the kirin are said to contain vast stores of magical energy, and I believe that if supplied with enough of them, I can harness that energy to power a weapon the likes of which have never been seen in all of Cantha! Run along and fetch me 5 Stone Horns, and you can have this in return:"
Collector Items
Denos Makaluum
Location: Vasburg Armory (Northwest alcove)
Collecting: 5 Stone Horns
Ad blocker interference detected!
Wikia is a free-to-use site that makes money from advertising. We have a modified experience for viewers using ad blockers

Wikia is not accessible if you've made further modifications. Remove the custom ad blocker rule(s) and the page will load as expected.