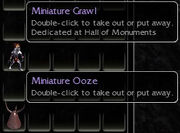 When a minipet is displayed in someone's Monument of Devotion at the Hall of Monuments, it becomes dedicated. After a minipet has been dedicated, nobody else can display that minipet in their Hall of Monuments, but it can still be used by anyone.
Note that this is not the same as Customization - Dedicated minipets can still be traded to and used by other players, although the value of a dedicated minipet is usually less than an undedicated version of the same mini pet. Dedicated miniatures are distinctly marked, similar to customized items, but they will not show the name of the person who dedicated them.
Previously, minipets displayed in the Hall of Monuments were customized for that player and no one else could use them in any way. This was addressed in an update, and customized minipets can now be changed to dedicated at the Monument of Devotion by the player who originally customized them.
Ad blocker interference detected!
Wikia is a free-to-use site that makes money from advertising. We have a modified experience for viewers using ad blockers

Wikia is not accessible if you've made further modifications. Remove the custom ad blocker rule(s) and the page will load as expected.