Deacon of Whispers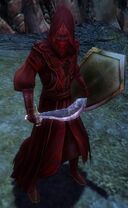 Classification
The Deacon of Whispers is a collector who exchanges an Armbrace of Truth for the elite Tormented weapons.
Dialogue
"These weapons were recovered from the Margonites, but I am afraid their influence began warping the weapons into unnatural forms and corrupting the very steel from which they were forged. I desire to see them turned against those that sought to use them, but these weapons will be dangerous in the hands of those unable to control the power within. I cannot hand them over to just any Lightbringer. If you bring me an Armbrace of Truth from within these realms, I will know you have found one of my fallen brethren and have earned their trust through your deeds."
Collector Items
Deacon of Whispers
Location: Gate of Anguish (location)
Collecting: 1 Armbrace of Truth
Offers the following:
Tormented martial weapons for all martial weapon attributes (including all 5 types of bow) with perfect Strength and Honor inscriptions.
Tormented Shields for all shield attributes with inscription slots and perfect Shield Handles of Fortitude.
Tormented Scepters for all spellcasting attributes with inscription slots and perfect Wand Wrappings of Memory.
Tormented Staves for all spellcasting attributes with Hale and Hearty inscriptions.
Tormented Focus items for all spellcasting attributes with inscription slots and perfect Focus Cores of Fortitude.
Ad blocker interference detected!
Wikia is a free-to-use site that makes money from advertising. We have a modified experience for viewers using ad blockers

Wikia is not accessible if you've made further modifications. Remove the custom ad blocker rule(s) and the page will load as expected.