Darkened Irukandji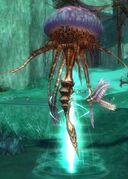 Classification
Description
Darkened Irukandji can be found in the beginning chambers of The Deep as well as in raiding parties of the Nightmare Horde.
Locations
Skills Used
Items Dropped
Notes
If they succeed in putting up the spirit of Restoration, make sure to take it down before taking them down or members of their group as it will resurrect any of them who died close enough to it upon its death.
Trivia
Named after the deadly jelly fish the size of a finger nail found in Australia.
Ad blocker interference detected!
Wikia is a free-to-use site that makes money from advertising. We have a modified experience for viewers using ad blockers

Wikia is not accessible if you've made further modifications. Remove the custom ad blocker rule(s) and the page will load as expected.