Dark Priestess Velna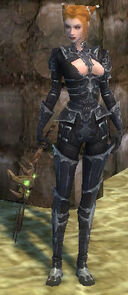 Classification
Dark Priestess Velna is a Necromancer who is hoping you can help turn the tide for Grenth this season.
Location
Dialogue
"Deep in the mountain home of the Stone Summit Dwarves exists a servile species known as the Dredge. Though the rightful servants of the Stone Summit, some of these cretinous creatures have dared to revolt. These free Dredge have the audacity to celebrate Wintersday and give thanks to Dwayna! This insult to Grenth must be stopped! If you gather 1 Dredge Manifestos [sic] and bring them to me as proof you have spread Grenth's influence among the Dredge, I will give you this in return:"
Collector Items
Collecting: 1 Dredge Manifestos
Ad blocker interference detected!
Wikia is a free-to-use site that makes money from advertising. We have a modified experience for viewers using ad blockers

Wikia is not accessible if you've made further modifications. Remove the custom ad blocker rule(s) and the page will load as expected.