Dark Priest Shadowvein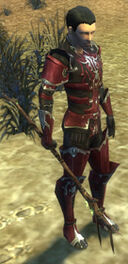 Classification
Location
Dialogue
"Deep within the caverns below Droknar's Forge, the shrine to our merciless lord, Grenth, awaits. There we give our praise to Grenth for the blessings of darkness and death with which he enshrouds the Winterdays season. You look like one that celebrates death the whole year 'round. Bring me 2 Frigid Hearts from any imps you find, and I shall offer them to Grenth upon his altar. Do this, and I will give you this in return:"
Collector Items
Collecting: 2 Frigid Hearts
Ad blocker interference detected!
Wikia is a free-to-use site that makes money from advertising. We have a modified experience for viewers using ad blockers

Wikia is not accessible if you've made further modifications. Remove the custom ad blocker rule(s) and the page will load as expected.