Dark Oak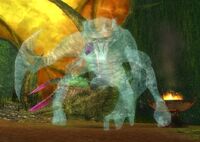 Classification
General
Dark Oak is a druid who can be found deep inside the Maguuma Jungle.
Quests Involved In
Location
Dialogue
"Darkness and light, good and evil... all are a part of nature. There is no regrowth without death... without decay. Such is the lesson that I can teach you, stripling.
Why do you disturb me?"
Ad blocker interference detected!
Wikia is a free-to-use site that makes money from advertising. We have a modified experience for viewers using ad blockers

Wikia is not accessible if you've made further modifications. Remove the custom ad blocker rule(s) and the page will load as expected.