Dark Flame Dryder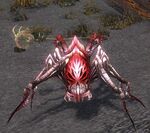 Classification
Description
In Perdition Rock, Dark Flame Dryders roam the area in groups of two to four (most commonly three). In Abaddon's Mouth they can be found in stationary groups together with bosses of their kin. Their Soul Leech can be quite annoying for spellcasters, but apart from that these creatures don't pose much of a threat.
Location
Skills used
15 in Blood Magic (20 in Hard Mode)
Items dropped
Notes
Dark Flame Dryders only use Shadow Strike when their target is above 50% health, or when their target is on very low health (low enough to kill with Shadow Strike, or about 48 health).
Ad blocker interference detected!
Wikia is a free-to-use site that makes money from advertising. We have a modified experience for viewers using ad blockers

Wikia is not accessible if you've made further modifications. Remove the custom ad blocker rule(s) and the page will load as expected.