Ad blocker interference detected!
Wikia is a free-to-use site that makes money from advertising. We have a modified experience for viewers using ad blockers

Wikia is not accessible if you've made further modifications. Remove the custom ad blocker rule(s) and the page will load as expected.
Dalzbeh

Classification
Dialogue
"I'm getting so tired of all the whining, little brats around here. I just need some heket tongues. They're great for scaring the girls. Is it my fault they get themselves into trouble going out to collect them for me? Hey, you look pretty strong. I bet [sic] you could get some for me. If you get 5 Heket Tongues for me, I'll even give you something in return:"
Collector Items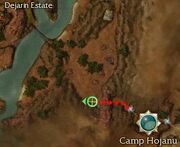 Dalzbeh
Location: Dejarin Estate, just west of the Resurrection Shrine west of the Camp Hojanu portal
Collecting: 5 Heket Tongues
Notes