Daky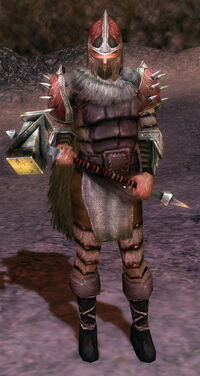 Classification
Description
Daky is the Rampaging henchman available in Heroes' Ascent.
Location
Dialogue
A lot of people think rats are dirty animals and refuse to take them as pets. Even some of my fellow Rangers questioned my choice of companion, but it's not that strange when you stop and think about it. Pigs are just as dirty as rats, and people still take warthogs as their pets! I couldn't imagine having one of those moa birds instead of Squeakers; he's the best!
You ready to go, Squeakers?
Skills used
Evaluation
Notes
Trivia
---
Ad blocker interference detected!
Wikia is a free-to-use site that makes money from advertising. We have a modified experience for viewers using ad blockers

Wikia is not accessible if you've made further modifications. Remove the custom ad blocker rule(s) and the page will load as expected.