Dai Waeng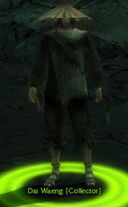 Classification
Dialogue
"So you have been fighting against the afflicted, eh? It just so happens that I have found a buyer who is interested in their... err... remains. My client prefers to remain nameless, of course, but he has given me authority to offer up to a trade to any who bring me some of those pulsating growths. If you return to me with 5 Pulsating Growths, I will give you this on my client's behalf:"
Collector Items
Dai Waeng
Location: Zin Ku Corridor
Collecting: 5 Pulsating Growths
Ad blocker interference detected!
Wikia is a free-to-use site that makes money from advertising. We have a modified experience for viewers using ad blockers

Wikia is not accessible if you've made further modifications. Remove the custom ad blocker rule(s) and the page will load as expected.