Dagnor Grubeater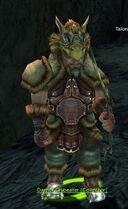 Classification
Dialogue
"Mmmmm...*munch* *crunch* ...Mmfff frumph frump?... *swallow* ....Sorry. You got any ashen appendages? I'm almost out. Them's good eatin', I tell you. Especially with a dry rub of secret herbs and spices. Mmm-mmm! I'm almost out, and I could sure go for another bucket-full. If you go out and find me 5 Lavastrider Appendages, I'll be more than happy to give you:"
Collector Items
Dagnor Grubeater
Location: Arachni's Haunt, first level
Collecting: 5 Lavastrider Appendages
Notes
You must have the quest Scrambled Reinforcements in order to get to this collector as he is past the first blocked corridor.
Ad blocker interference detected!
Wikia is a free-to-use site that makes money from advertising. We have a modified experience for viewers using ad blockers

Wikia is not accessible if you've made further modifications. Remove the custom ad blocker rule(s) and the page will load as expected.