---
Warning: The following text contains spoilers relating to the plot of Prophecies.
---
Dagnar Stonepate
Classification
Map(s)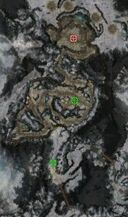 Thunderhead Keep
Note: This character is named Dagnar Stonesplitter in the game manual, but Dagnar Stonepate in the actual game. Additionally, both books Young Heroes of Tyria and The Flameseeker Prophecies name him Dagnar Stoneplate.
Description
Dagnar Stonepate is the leader of the Stone Summit. He is a ruthless leader and a sworn enemy of all strangers (non-dwarves) in the Shiverpeak Mountains. Ironically, he is the cousin of King Jalis Ironhammer, though he shares none of the King's wisdom or hospitality.
Dagnar is determined to prevent the people of Ascalon from going through what he believes is his land in order to get to safety in Kryta. He instructs the Summit to block Borlis Pass and when the Ascalons make it through eventually, he kills their leader, Prince Rurik.
Dagnar is usually seen riding an Ice Drake. When he dismounts, he turns into a Warrior, wielding an axe.
Location
Skills used
Items dropped
Miniature
---
Ad blocker interference detected!
Wikia is a free-to-use site that makes money from advertising. We have a modified experience for viewers using ad blockers

Wikia is not accessible if you've made further modifications. Remove the custom ad blocker rule(s) and the page will load as expected.