General Information
The Crystal Overlook is an explorable area in The Desolation, though it bears some resemblance to the Crystal Desert to the north. The sand is a lighter shade of grey than the non-sulphurous sand in the rest of the Desolation, closer to the yellow-brown of the Southern Crystal Desert. There is also little stone or sulphur here, but despite that, not much of this area may be traversed on a Junundu due to its placement. There is a ruined village and a graveyard along the north edge, established during Turai Ossa's ill-fated pilgrimage to the Crystal Desert.
Outposts & Cities
Exits
Blessings & Shrines
NPCs
Quests
Crystal Overlook
Creatures
Monsters
Animals
Bosses
Notes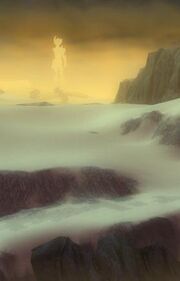 ---
Ad blocker interference detected!
Wikia is a free-to-use site that makes money from advertising. We have a modified experience for viewers using ad blockers

Wikia is not accessible if you've made further modifications. Remove the custom ad blocker rule(s) and the page will load as expected.