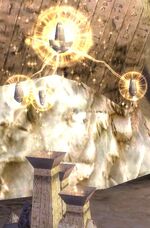 The Crystal Dessert is a silicon-based dish, served by the Forgotten to lost souls seeking ascension in the Crystal Desert.
Known side-effects
Consuming excessive amounts may attract some very dangerous monsters including: Hydras, Sand Wurms, Rockshot Devourers and Sand Giants.
It is also known to cause dictionarrhea and spellofobia.
Warning: heating Crystal Dessert in your microwave will void warranty!