Description
A staff with a crescent-shaped head below which a sphere floats.
Location
Dye
With most colors, dye seems to have the strongest effect on sections of the shaft at the tail and below the head. White and black dyes have strong effects on other areas of the staff, including the head.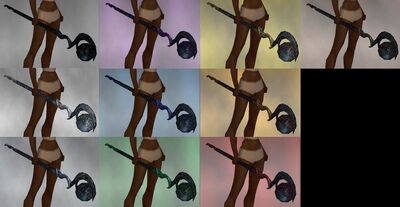 Uniques with this appearance
Ad blocker interference detected!
Wikia is a free-to-use site that makes money from advertising. We have a modified experience for viewers using ad blockers

Wikia is not accessible if you've made further modifications. Remove the custom ad blocker rule(s) and the page will load as expected.