Crane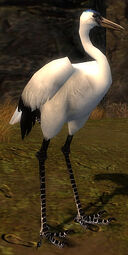 Classification
Cranes are charmable animals native to various regions of Cantha.
Locations
Notes
Trivia

Historical note: Originally, the Crane had a red crest and a black neck, very similar to the real-life Red-crowned Crane. Due to Chinese laws against depicting the death of endangered species, however, the Crane's appearance had to be changed in order to keep the game available in China. The coloring of the current model has little resemblance to any real-life crane.
---
Ad blocker interference detected!
Wikia is a free-to-use site that makes money from advertising. We have a modified experience for viewers using ad blockers

Wikia is not accessible if you've made further modifications. Remove the custom ad blocker rule(s) and the page will load as expected.