Councilor Wrex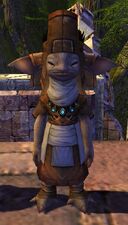 Classification
General
Wrex is a member of the Arcane Council during the Trial of Zinn.
Location
Dialogue
Before the Trial:"What a hassle! Oola better come through with those parts she promised me."
After the Trial:"Honestly, I'm not sure banishment's much of a punishment. Sometimes I think a ten year vacation from these bookahs would be a welcome change of pace."
Ad blocker interference detected!
Wikia is a free-to-use site that makes money from advertising. We have a modified experience for viewers using ad blockers

Wikia is not accessible if you've made further modifications. Remove the custom ad blocker rule(s) and the page will load as expected.