Councilor Lumpys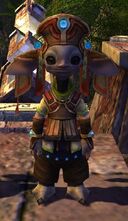 Classification
General
Lumpys is a member of the Arcane Council during the Trial of Zinn. He is jealous of Mamp's role as head of the Council.
Location
Dialogue
Before the Trial:
"I still don't see why Mamp gets to be head of the Arcane Council. I've been on the Council half as long as he has, so I should get to run things half the time! Excuse me a moment...

NONE OF YOU ARE GENIUSES! WHY ARE NONE OF YOU GENIUSES? I'll tell you WHY! Because you're not ME!"
After the Trial:
"What a terrible miscarriage of justice! If i'd been running that trial, it would have been one of the best miscarriages of justice of all time. OF ALL TIME!"
Trivia
Ad blocker interference detected!
Wikia is a free-to-use site that makes money from advertising. We have a modified experience for viewers using ad blockers

Wikia is not accessible if you've made further modifications. Remove the custom ad blocker rule(s) and the page will load as expected.