---
---
---
Warning: The following text contains spoilers relating to the plot of the Bonus Mission Pack.
---
Confessor Dorian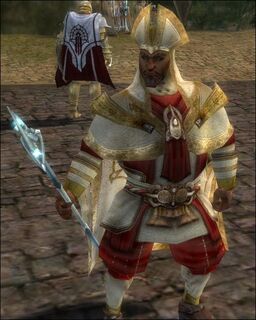 Classification
Map(s)

Thunderhead Keep
General
Confessor Dorian is the leader of the White Mantle. He took over from Saul D'Alessio, who was taken away by the Mursaat. You first get to meet him at the Temple of Tolerance, where you must help the White Mantle in defeating the undead and safekeep the Scepter of Orr.
Location
Skills used
During The Rise of the White Mantle:
Dialogue
During battle in D'Alessio Seaboard:
"I wish our meeting could be under different conditions, but now we must fight."
"Now is not the time for idle chatter!"
During battle in Thunderhead Keep:
"By my divine hand you will pay for your heresy!"
"There is but one punishment for you. Death!"
Items dropped
Miniature

---
Ad blocker interference detected!
Wikia is a free-to-use site that makes money from advertising. We have a modified experience for viewers using ad blockers

Wikia is not accessible if you've made further modifications. Remove the custom ad blocker rule(s) and the page will load as expected.