Commander Thurnis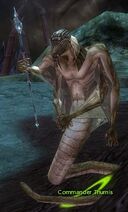 Classification
General
Commander Thurnis is one of the wardens of the Realm of Torment.
Quests Given
Quests Involved In
Location
Dialogue
"Humans... how you have fallen from the heights you once reached. You are an embarassment to the Five Gods! Pft! If you want to prove yourself, fight Margonites with us. We need someone to take point."
Notes
He is the father of Captain Yithlis.
Ad blocker interference detected!
Wikia is a free-to-use site that makes money from advertising. We have a modified experience for viewers using ad blockers

Wikia is not accessible if you've made further modifications. Remove the custom ad blocker rule(s) and the page will load as expected.