Ad blocker interference detected!
Wikia is a free-to-use site that makes money from advertising. We have a modified experience for viewers using ad blockers

Wikia is not accessible if you've made further modifications. Remove the custom ad blocker rule(s) and the page will load as expected.
Commander Jafai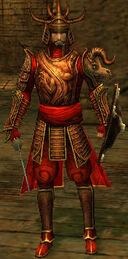 Classification
General
Commander Jafai appears in the Shenzun Tunnels. He is the commander of the squadron of guards which are attempting to defend the area from the Afflicted.
Quests Involved In
Location
Dialogue
This area has been contaminated by the plague and has been quarantined by order of the emperor. He did mention that a party might come this way, and he suggested I tell you to head to Arborstone or Boreas Seabed. You can get to either of those areas by traveling through the Pongmai Foothills. (Player Name) might want to journey there, first. What else do you wish to discuss?"
After completion of the Boreas Seabed mission but before accepting quests City Under Attack or Battle in the Sewers:
"Once the emperor received word that you had obtained both weapons, an imperial herald was sent to Zos Shivros Channel. (character name) should head back there to get the royal summons. What else do you wish to discuss?"
During quest City Under Attack and Battle in the Sewers (before fighting off the Afflicted):
"My men have been fighting and dying by the dozens, but the Afflicted will not stop coming. (character name) should talk to the emperor. If I could get some reinforcements, I could help you set up some sort of safe zone within. What else do you wish to discuss?"
During quest Battle in the Sewers (after fighting off waves of Afflicted):
"I have orders from the emperor to secure this area. No one is to enter or leave the sewers."