Clerk Arlon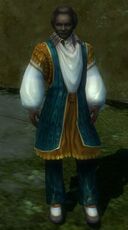 Classification
General
Clerk Arlon is can be found in Kamadan, Jewel of Istan, and is involved in several quests.
Quests Given
Quests Involved In
Location
Dialogue
"Next! Welcome to Istan. I am here to oversee all arrangements necessary to make visitors from the other provinces feel welcome and comfortable. I am very happy to help you."
Ad blocker interference detected!
Wikia is a free-to-use site that makes money from advertising. We have a modified experience for viewers using ad blockers

Wikia is not accessible if you've made further modifications. Remove the custom ad blocker rule(s) and the page will load as expected.