Claw Tallfeather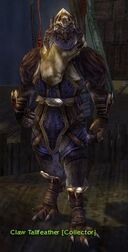 Classification
Dialogue
"The treaty ending the Tengu Wars called for peace between Canthans and Tengu, and it legitimized our right to live within Canthan borders. Hoping to start a new life for ourselves, my nest-mate and I came to Kaineng City, but when we arrived, we were jumped by a gang of Canthans known as the Jade Brotherhood. They set upon us shouting slurs, and they beat my mate to death. I will have revenge, but I cannot do it alone. Make the Jade Brotherhood suffer, and I will show my gratitude. Bring me 5 Jade Bracelets, and I will give you this in return:"
Collector Items
Claw Tallfeather
Location: Xaquang Skyway
Collecting: 5 Jade Bracelets
Ad blocker interference detected!
Wikia is a free-to-use site that makes money from advertising. We have a modified experience for viewers using ad blockers

Wikia is not accessible if you've made further modifications. Remove the custom ad blocker rule(s) and the page will load as expected.