Chung, the Attuned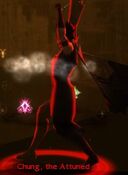 Classification
Map(s)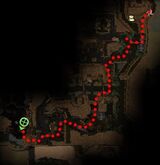 From Vizunah Square (local)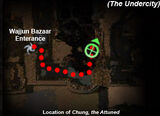 From Wajjun Bazaar
Description
Chung, the Attuned is an Am Fah Elementalist boss.
Location
Skills used
Items dropped
Notes
Chung, the Attuned drops from above while you are walking through a bright glowing tunnel section of The Undercity that looks as if something incredibly hot has passed through, leaving smoldering rock and plenty of smoke, such as the Golems that spawn in this area when the quest It Ends Here is active.
Am Fah pop-up on either side of Chung, dropping from the ceiling as do many Am Fah mobs. Proceed with caution, or one of these mobs will be behind you, trapping you in the hallway and putting your casters at risk. The mob North of Chung can be lured without aggroing Chung himself. Seperating the mob to the South appears to be much harder.
Ad blocker interference detected!
Wikia is a free-to-use site that makes money from advertising. We have a modified experience for viewers using ad blockers

Wikia is not accessible if you've made further modifications. Remove the custom ad blocker rule(s) and the page will load as expected.