Cheswick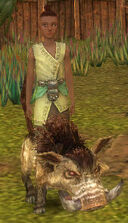 Cheswick with Oink

Classification
Map(s)

Location
General
Cheswick is the son of Krytan Historian McClain. Together with his father he awaits a safe return to his home which has been overrun with undead.
Returning his pig Oink to him upon entering the outpost near Lion's Arch will trigger the bonus objective to Gates of Kryta. Once the Orrian Text is obtained, the party must return it to his father to complete the bonus.
Location
Dialogue
"My daddy says I shouldn't talk to strangers"
→ After completing the bonus:
"Thank you so much for finding Oink!"
Ad blocker interference detected!
Wikia is a free-to-use site that makes money from advertising. We have a modified experience for viewers using ad blockers

Wikia is not accessible if you've made further modifications. Remove the custom ad blocker rule(s) and the page will load as expected.