Ad blocker interference detected!
Wikia is a free-to-use site that makes money from advertising. We have a modified experience for viewers using ad blockers

Wikia is not accessible if you've made further modifications. Remove the custom ad blocker rule(s) and the page will load as expected.
Chef Armand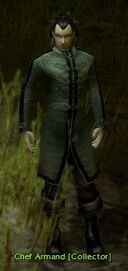 Classification
Dialogue
"Fungal wallows are just the cutest creatures, aren't they? That's why I feel so guilty splitting open their bellies to get at the wonderful truffles inside them! You see, they consume great quantities of truffles daily to sate their voracious appetites, leaving little for you and I to feast on at the dining table. Some gourmands dislike the taste of, um, semi-digested fungus, but true connoisseurs appreciate the bold tastes and strong aromas of fungal wallow truffles. I know I do! Gather me 5 Truffles in return for this..."
Collector Items
Chef Armand
Location: Ferndale (just outside Aspenwood Gate (Kurzick))
Collecting: 5 Truffles