Chebar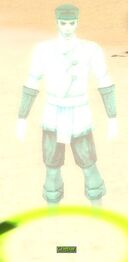 Classification
General
Chebar is a ghost found in the Crystal Desert. He passed away many years ago when his people tried to ascend but were wiped away by some great catastrophe. He was in love with Tirzah and had planned to propose to her before that disaster.
Quests Involved In
Location
Ad blocker interference detected!
Wikia is a free-to-use site that makes money from advertising. We have a modified experience for viewers using ad blockers

Wikia is not accessible if you've made further modifications. Remove the custom ad blocker rule(s) and the page will load as expected.