Chark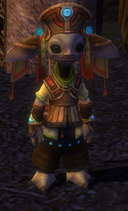 Classification
General
Chark is an Asura NPC who takes characters to The Trial of Zinn (one of the requirements for beginning the War in Kryta quest sequence).
In order to meet Chark, you need to go to the shining blade camp from Temple of the ages, exit out through the Black Curtain and follow the path. Enter the camp and listen to the first dialog, then exit the camp, turn right and zone out (no enemies). Come back and listen to the 2 subsequent dialogs before going Vlox's Falls. Meet Chark outside in Arbor Bay. If you don't listen to all 3 dialogs you have to start over.
Location
Dialogue
"I am looking for witnesses in an upcoming trial. Were you involved in the R.O.X., P.O.X., or N.O.X, incidents?"

"Yes, and I have M.O.X. to prove it"

"In that case, by the authority of the arcane council, I officially request your presence at the trial of Zinn. And when I say "request," I mean "command." It is the arcane council after all.

"I don't know anything about those"

"Well, today is your lucky day then. You'll have the opportunity to learn all about it. Fascinating stuff... intrigue, drama, wanton destruction. You'll really enjoy hearing the story. If anyone asks, just say you're a "witness." After all, you are there to witness the trial, so technically, it's true."

"No, I've heard about them though"

"Excellent, excellent. This is an ideal opportunity for you to learn more and to share what you've already heard. Rumours and hearsay are the foundation of any good court case!"
Quotes
"Interested in opportunities in the legal field?"
Notes
Chark will only appear for characters who have completed either Zinn's Task or the Eye of the North storyline.
After viewing Zinn's trial on a character, Chark will not appear again for that character.
Ad blocker interference detected!
Wikia is a free-to-use site that makes money from advertising. We have a modified experience for viewers using ad blockers

Wikia is not accessible if you've made further modifications. Remove the custom ad blocker rule(s) and the page will load as expected.