Champion of Dhuum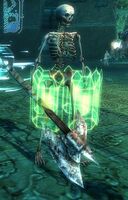 Classification
Champions of Dhuum are summoned by Dhuum through the skill Summon Champion.
Locations
Notes
A Champion of Dhuum can be turned into an unmoving ally through using Encase Skeletal.
Unlike Dhuum, the Champions of Dhuum are undead and thus take double damage from Holy damage.
They are wielding a Tribal Axe.
See also
Ad blocker interference detected!
Wikia is a free-to-use site that makes money from advertising. We have a modified experience for viewers using ad blockers

Wikia is not accessible if you've made further modifications. Remove the custom ad blocker rule(s) and the page will load as expected.