Chained Cleric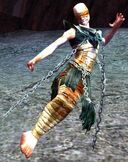 Classification
Description
Chained Clerics are powerful undead monks that have been chained for some unknown reason. They are capable of reversing any harm that against their fellow undead while conjuring a powerful enchantment spirit to protect them. Due to their wide range of powerful spells, they should be taken down as soon as possible.
Location
Skills used
Notes
Difficult to kill due to the fact they spawn in groups of 10 or more. Pulling is advised.
Items dropped
Ad blocker interference detected!
Wikia is a free-to-use site that makes money from advertising. We have a modified experience for viewers using ad blockers

Wikia is not accessible if you've made further modifications. Remove the custom ad blocker rule(s) and the page will load as expected.