Cendin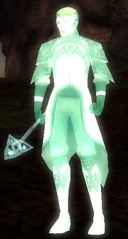 Classification
General
Cendin is a ghost encountered during The Flight North.
Location
Dialogue
"I will fight until the last! The Charr cannot sear our lands if my flame burns them first!" This quote is further proof that this group knew about the plans for The Searing and died trying to stop the attack.
Ad blocker interference detected!
Wikia is a free-to-use site that makes money from advertising. We have a modified experience for viewers using ad blockers

Wikia is not accessible if you've made further modifications. Remove the custom ad blocker rule(s) and the page will load as expected.