Captain Denloh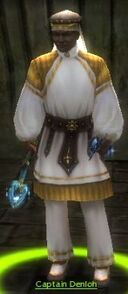 Classification
Captain Denloh is one of those of Captain rank in the Order of the Sunspears.
Location
Dialogue
"Welcome Sunspear! I'm glad you have joined the honorable ranks of the Sunspears. If you haven't met many of your comrades in arms [sic] yet, I would recommend introducing yourself around. The Sunspear ranks are full of excellent people, and I'm sure you'll love it here."
Notes
This NPC appears to have been added during one of the January or February 2007 updates.
Ad blocker interference detected!
Wikia is a free-to-use site that makes money from advertising. We have a modified experience for viewers using ad blockers

Wikia is not accessible if you've made further modifications. Remove the custom ad blocker rule(s) and the page will load as expected.