Captain Calhaan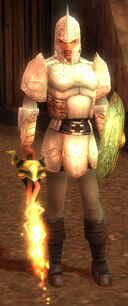 Classification
General
Captain Calhaan is both the starting and ending point for The Great Northern Wall mission. When you first start the mission, you talk to him to get your mission goals, and then at the end of the mission you talk to him to finish it.
Location
Notes
Ad blocker interference detected!
Wikia is a free-to-use site that makes money from advertising. We have a modified experience for viewers using ad blockers

Wikia is not accessible if you've made further modifications. Remove the custom ad blocker rule(s) and the page will load as expected.