Captain Bohseda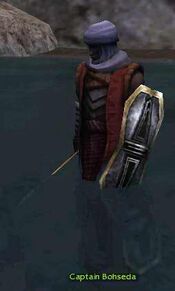 Classification
General
Captain Bohseda will greet your party at the beginning of the Moddok Crevice mission. He will try to convince you to follow him and his band of Corsair Cutthroats. Note that no matter which option you choose, the group will attack your party, but if you choose to follow him, eight Corsair Raiders will spawn as well.
Location
Skills used
Dialogue
"I cannot name my benefactor...only that he is very interested in seeing you reach Vabbi...alive. I want to keep him happy, and you want to line through this trip. So, what do you say? Can we trust one another?"

Accept: "I'll follow you...for now."
Decline: "Dunkoro is right. I don't trust you."
Items dropped
Ad blocker interference detected!
Wikia is a free-to-use site that makes money from advertising. We have a modified experience for viewers using ad blockers

Wikia is not accessible if you've made further modifications. Remove the custom ad blocker rule(s) and the page will load as expected.