Candysmith Kris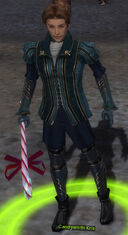 Classification
Kris is a Candysmith and appears only at Wintersday.
Location
Collecting: 9 Candy Cane Shards
Dialogue
"Some people scoff at making weapons out of candy canes. They say it isn't strong enough to withstand the rigors of battle! I tell you, though, there is no victory as sweet or tasty as a victory won with a candy cane! If you want to join the great battle this Wintersday, you should do so with one of my tasty weapons in hand. If you gather 9 Candy Cane Shards and bring them to me, I will craft you one of these tasty weapons..."
Ad blocker interference detected!
Wikia is a free-to-use site that makes money from advertising. We have a modified experience for viewers using ad blockers

Wikia is not accessible if you've made further modifications. Remove the custom ad blocker rule(s) and the page will load as expected.