Candysmith Coldstone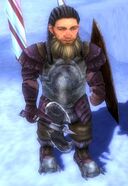 Classification
Coldstone is a Candysmith and appears only at Wintersday.
Location
Collecting: 9 Candy Cane Shards
Dialogue
"Look at that mug! I can tell you've got quite the sweet tooth, am I right? What if I told you that you could satisfy those candy-loving urges and get a brand new weapon all at once? I jest thee not! I specialize in weapons made from pure peppermint. And if you get trapped under an avalanche while armed with one of these succulent armaments, you could sustain yourself by sucking on its hilt until the next thaw! You know you want it. So bring me 9 Candy Cane Shards and I'll hook you up with one of these:"
Trivia
Ad blocker interference detected!
Wikia is a free-to-use site that makes money from advertising. We have a modified experience for viewers using ad blockers

Wikia is not accessible if you've made further modifications. Remove the custom ad blocker rule(s) and the page will load as expected.