Cait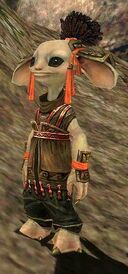 Classification
An Asura collector just south east of the starting point of level 1 in the Rragar's Menagerie dungeon.
Dialogue
"I think Gadd and the rest of his cronies are wasting time with power crystals and golem designs. But do they listen? No. Reanimated flesh. That's the future. We can make entire armies out of the very demons we're fighting. It's a win-win scenario. If I'm ever going to prove my theories, though, I'll need a lot of fleshreaver morsels. Be a dear and find me 5 Fleshreaver Morsels. In return I'll give you:"
Collector Items
Cait
Location: Rragar's Menagerie, first level, just inside the entrance
Collecting: 5 Fleshreaver Morsels
Ad blocker interference detected!
Wikia is a free-to-use site that makes money from advertising. We have a modified experience for viewers using ad blockers

Wikia is not accessible if you've made further modifications. Remove the custom ad blocker rule(s) and the page will load as expected.