Cairn the Berserker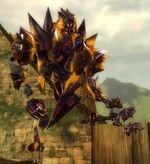 Classification
Cairn the Berserker is a Jade Warrior boss in the War in Kryta. He resides at the gate of the newly opened castle in Loamhurst, guarding Vess the Disputant.
Locations
Skills
When encountered during the quest A Little Help From Above:
Items dropped
None.
Notes
Ad blocker interference detected!
Wikia is a free-to-use site that makes money from advertising. We have a modified experience for viewers using ad blockers

Wikia is not accessible if you've made further modifications. Remove the custom ad blocker rule(s) and the page will load as expected.