Buuran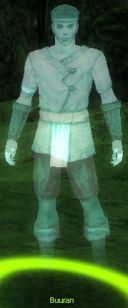 Classification
General
Buuran is a ghost who's disturbed from his sleep when the the resting place of the Staff of the Mists is disturbed. He asks you to destroy the scepter in The Hallowed Point quest.
Quests Given
Quests Involved In
Location
Dialogue
"Why has my rest been disturbed?"
Ad blocker interference detected!
Wikia is a free-to-use site that makes money from advertising. We have a modified experience for viewers using ad blockers

Wikia is not accessible if you've made further modifications. Remove the custom ad blocker rule(s) and the page will load as expected.