Brother Hanjui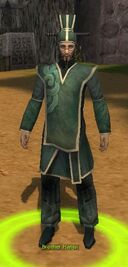 Classification
General
Brother Hanjui is a friend of Master Togo. He guards the entrance into Zen Daijun. He also provides the briefing for the Zen Daijun mission.
Quests Involved In
Location
Dialogue
Refresh my memory for me. What has been happening on Shing Jea Island?
What is the situation here at Zen Daijun?
What else can you tell me?
Mission briefing for characters of other campaigns:
Ad blocker interference detected!
Wikia is a free-to-use site that makes money from advertising. We have a modified experience for viewers using ad blockers

Wikia is not accessible if you've made further modifications. Remove the custom ad blocker rule(s) and the page will load as expected.