Bristlefire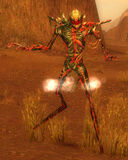 Classification
Description
Bristlefire is a Stalker boss that can showcase the power of Earth Magic.
Location
Skills used
Items dropped
Notes
Leave from Ventari's Refuge, after going south go through the gap by the collector and keep going south east. He is most often found there.
This boss can be quite tough to kill, because his attacks hit for about 100 a shot, including his PBAoE. Get him first and then worry about his minions.
Ad blocker interference detected!
Wikia is a free-to-use site that makes money from advertising. We have a modified experience for viewers using ad blockers

Wikia is not accessible if you've made further modifications. Remove the custom ad blocker rule(s) and the page will load as expected.