Bridge Troll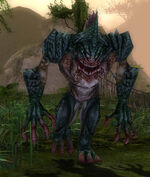 Classification
Description
The Bridge Troll is a lone troll who paces back and forth across a bridge towards the center of Verdant Cascades. You cannot cross the bridge without aggroing him.
Location
Skills used
Trivia
This enemy is a reference to common idea of bridge-guarding trolls, which originally stemmed from the fairy tale Three Billy Goats Gruff.
There is only one Bridge Troll in the whole game of Guild Wars.
Ad blocker interference detected!
Wikia is a free-to-use site that makes money from advertising. We have a modified experience for viewers using ad blockers

Wikia is not accessible if you've made further modifications. Remove the custom ad blocker rule(s) and the page will load as expected.